Piano superstar Lang Lang reveals early struggles
Submitted by
harpplayer
on November 20, 2009 - 10:16am
in
London, England (CNN) -- Chinese pianist Lang Lang was born and bred to be a classical music star.
A product of China's One Child Policy, Lang Lang's music-obsessed parents projected their own dreams of greatness onto their young son, overseeing a rigorous rehearsal regimen from a very early age.
Even before he was old enough to play, the couple dipped into their savings to buy Lang Lang a piano. By the age of three, he was already taking lessons from his father -- who had tried and failed at a music career of his own.
"As Chinese parents, we have high expectations of our child," Lang Lang's mother told CNN. "We had our own ideas and plans when we brought him up."
At age nine, Lang Lang moved with his father to Beijing to pursue a professional career, leaving his mother at home to earn enough money for all three.
"In the beginning it worked very well, when I was a kid, but then I would say we had a really complicated time because [my father's] dream in me became too big," Lang Lang told CNN.
The worst time came when Lang Lang was inexplicably expelled from music school.
His father flew into a rage and told his son he should end his life by jumping off a building. Lang Lang describes it as a terrible time.
His father says he was applying pressure to the young musician to make him stronger.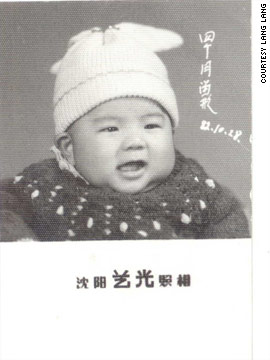 Gallery: Lang Lang: A Prodigy's Childhood
Written By:
Olivia Sterns